Pre-operative psychological evaluation of bariatric surgery candidates is essential to mitigate risks of relapse and to determine the patient's readiness for a surgical weight loss program. The SWLPS assessment is an objective and validated tool loaded with essential information specific to surgical weight loss.
Prevent Relapse And Ensure Successful Patient Outcomes
Holistic screening for factors that strongly influence post-operative adjustment and compliance with the program
Pre-operative psychological evaluation and planning of support and follow-up programs
Post-operative patient evaluation and recommendations to maximize likelihood of success
Additional In-depth Assessments
Emotional Eating
Coping Skills
Depression
Emotional Intelligence
IQ (Culture Fair)
Data Analysis
Psychtests offers its expertise and research skills to help you streamline your program, identify common challenges the patients struggle with, so that they can be addressed in your support and follow-up efforts, or to perform other studies suited to your needs.
The Surgical Weight Loss Psychological Screening (SWLPS)
Are your pre-operative psychological screening methods evaluating issues specific to bariatric surgery?
SWLPS assesses a wide range of important factors that influence post-surgery adjustment, compliance with post-operative programs and likelihood of relapse. Namely, SWLPS screens for anxiety and depressive disorders, suicidal tendencies, substance and drug use - all significant risk factors. It also evaluates candidate attitudes and behaviors where other standardized tests fall short, such as the person's emotional strength and the type of coping techniques most often used to deal with stress and change, which is paramount to successful adjustment to a new lifestyle. In addition, the test assesses compliance probability and self-motivation - factors that can dramatically influence the patient's ability to stick with the program. Additional assessments (see left) allow for further pre-/post-operative evaluation per each clinic's discretion.
HAVE A QUESTION?
Call us toll-free, 888.855.6975 ext. 117
M-F: 9am-5pm EST or by appointment


Best Practices
Streamline, Validate and Control
Enhance efficiency and objectivity when referring potential candidates to psychologists for outside evaluation.
Help your psychologists respond to issues related specifically to successful patient outcome.
Identify unsuitable candidates in the early stages of election procedures with SWLPS and additional assessments.
Validate a clinical impression on a range of issues/scales specific to successful patient outcome after bariatric surgery.
Use SWLPS along with other sources to evaluate patient outcome.
Guarantee and be able to demonstrate compliance with recommendations of national industry associations.
Enhance Your Evaluation Protocol
Administer the SWLPS and other in-depth assessments to ensure a holistic and robust evaluation.
Screen surgery candidates for psychological fitness and risk factors in a systematic, objective, structured way.
Assess patients pre-surgery and at regular intervals post-surgery to gauge how they are doing compared to the baseline.
Ensure better compliance with lifestyle changes by providing patient-specific tips (tips and advice are offered as part of the test report).
Mitigate risks (medical and legal) by addressing and controlling the influence of patient-specific risk factors.
Get Impeccable Service
Secure - Your assessment center is password protected and secure. Confidentiality is guaranteed. No personally identifiable information is necessary for assessment.
Convenient - All assessments are performed online. Reports are generated immediately and are available 24/7.
User-friendly - Easy-to-use administrator interface. Add users, assign assessments and retrieve older reports in a few simple steps.
Professional - Customer support is just a phone call or email away. Our psychologist are ready to answer any of your questions.
Cost-effective - Low-cost, flat annual rates or pay-per-use options accommodate clinics of any size.
SWLPS next to MMPI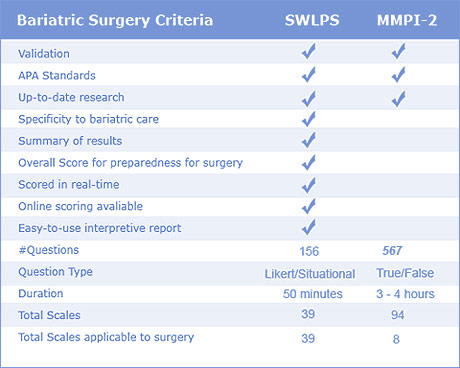 Testing Standards
Psychtests is a leader in online psycho-
logical testing and, as such, we hold ourselves to the most professional and scientific standards:
All tests are developed in accordance with the standards set forth by the APA (American Psychological Association), member #4991-9632.
Our tests have undergone and continue to undergo large-scale statistical analyses which assures a maximized validity, i.e. that the test measures what it claims to measure, and maximized reliability, i.e. that the results of a single test are generally and internally consistent.
All tests are developed through proprietary research and statistical validation processes, which we are able to make available upon request.
© 2021 Psychtests AIM Inc. All Rights Reserved